About Us
Chemi Flow Rubber Industries is one of the most recognized names engaged as a manufacturer, exporter and supplier of Sophisticated Rubber & Bakelite Moulded Parts, Steel Rubber Bushes, Diaphragms, Oil Seals, Hydraulic Seals and many other products that are marked for high class quality and services.

We have been ruling over the market for 23 years and have created a whole new range of Oil Seals, Hydraulic Seals, Chevron Seals, Rubber sheets along with a host of other products. Our products are being exported worldwide, especially to countries and continents like USA and Europe.

Our hi-tech manufacturing facilities have enabled us to achieve the status of the most successful organization in the market. We have been certified ISO 9001:2000 and have continuously focused on customer satisfaction through excellence in quality and service.
Product Range
We are the manufacturer, exporter and supplier of all kinds of Sophisticated Rubber & Bakelite Moulded Parts including:
| | |
| --- | --- |
| Metal to Rubber Bonded Components | Diaphragms |
| Disc Couplings | 'O' Rings |
| Hydraulic Seals | Rubber Rollers for Printing machines |
| Canvass Seals | Rubber Mats |
| Rubber Gaskets | Bushes |
| Rubber Pads | Rubber Tiles |
| Silicon Hoses | Rubber Bellows |
| Hard Rubber Blocks | Rubber Speed Breaker |
Besides, we also manufacture any component to drawing and specification in rubber polymers as natural, Neoprene, Nitrile, Silicon, Viton, Polyurethane, Polyolefin, EPDM, Hypalon etc.
Infrastructure

Chemi Flow Rubber Industries has its own tool room & press shop, where manufacturing of any component can be done as per the specification of the customers. Our sound infrastructure base is equipped with the following sophisticated machineries:

Hydraulic Machines
Handfly Compression Moulding Machines

Rubber Mixing Mills
Rubber Extruder Machine
Lathe Machine
Sand Belt Grinders

Bench Grinders

Drill Machine
Bakelite Transfer Moulding Hydraulic Machines
Bakelite Injection Moulding.
Quality

Quality is the first and foremost aspect on which
Chemi Flow Rubber Industries
emphasizes. All our products possess high quality and features that enhance their efficiency and durability. Strict quality control measures are taken at every step and all items are thoroughly checked before they are passed for distribution. We use only quality raw materials and the final products are passed through various stages of inspection wherein the product quality is ensured.
Lab for R&D testing raw materials & finished components are available in house.
Clients
Our list of clients include:

Telco Ltd. & Ancillaries

Bajaj Auto Ltd. & Ancillaries
KSB Pumps Ltd.
Thermax Ltd.
Bajaj Tempo Ltd.
Greaves Ltd.
IFB Industries Ltd. ...and many more.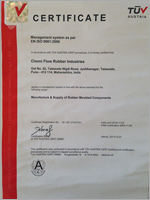 Read More